For those of us who dream of going off to the greens, and yet find it impossible to let go of the hustle of city life, for those who do not have the mindspace or time to potter with plants, while longing for a garden ,for those who just don't have a green thumb but adore plants, there is a ready made solution.
You could simply Go "Terrarium".
And if you are wondering what that is ~ a terrarium is usually a sealable glass container containing soil and plants,.
They are often kept as decorative or ornamental items and  create a unique environment for plant growth, as the transparent walls allow for both heat and light to enter the terrarium. The sealed container combined with the heat entering the terrarium allows for the creation of a small scale water cycle. This happens because moisture from both the soil and plants evaporates in the elevated temperatures inside the terrarium. This water vapour then condenses on the walls of the container, and eventually falls back to the plants and soil below.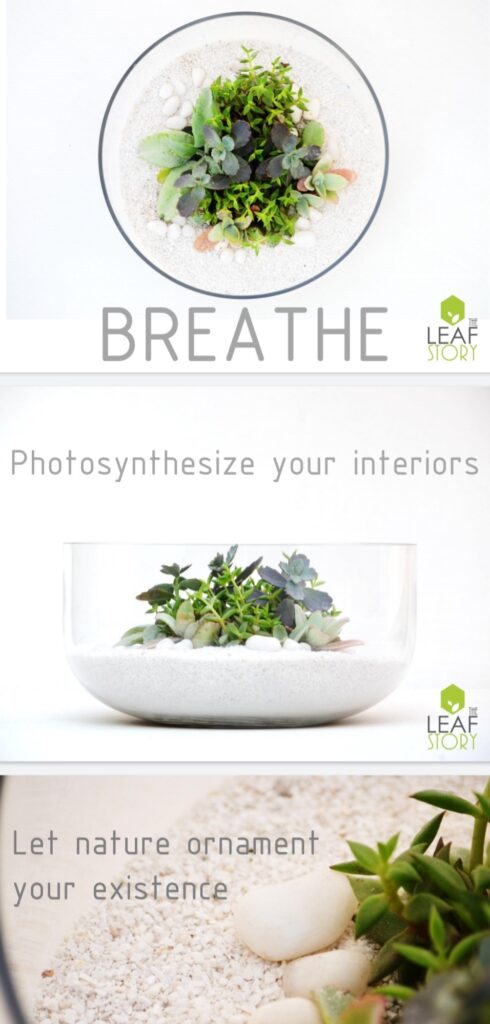 These are undoubtedly pretty but they are also very convenient as there is no trouble of regular watering the plants and therefore there is ease of maintenance. Moreover indoor plants absorb Carbon Dioxide and keep Oxygen flowing, they purify the air , create a relaxed and happy ambience
Exotic as its sounds the terrariums are just a call away.
Swastika Mukherjee is a painter, illustrator and NIFT alumnus, who has put her design background to use to styling mindblowing plant installations and terrariums. She uses organic materials like driftwood, stones and sometimes even metals to create her beautiful pieces
Fascinated by all things natural and hassled by own plants withering without water when she had to be away, Swastika embarked on her natural venture ~ THE LEAF STORY., her entrepreneurial venture into natural installations,  landscaping and terrariums.
But then, it doesn't stop there,
An artistic bent of mind with a genuine compassion for environment,  Swastika has now embarked on her next Organic venture of making Paraben and SLS free natural  soaps under the brand name
THE LITTLE BEE .
She uses a variety of organic ingredients like Menthol, Aloe Vera, Basil , and the more exotic Goat Milk and charcoal.
Goat Milk contains Alpha Hydroxy Acids which apparently  helps remove dead skin cells from skin. It also contains Butter Fat that helps boost moisturizing and emollient quality of the skin.
Her Charcoal  soaps also act as a Cleanser and Detoxifier. Charcoal removes excess oil and dirt from the clogged pores due to its high adsorption power, and so it removes bacteria, dirt and other microparticles, removes excess oil, sebum and blackheads. Another very special offering is the Redwine and Pomegranate soap. Red wine extracts and pomegranate extracts helps reducing free Lines and wrinkles ,helps maintain a youthful skin .

At a very personal level, I respect Swastika's freshness and her entrepreneurial ventures into the realm of nature.
As a consumer, I would highly recommend her organic products.
In a world getting consumed by  the superficial and callous negligence of nature, Swastika Mukherjee is a rare crusader for an organic , natural way of life